Sound System and Projector Rental for Birthday Parties, Weddings
Reference: SSP
Sound System and Projector Rental for Birthday Parties, Weddings, Gatherings, Baby shower, Company Events and Functions.
Suitable for Condo Function rooms, HDB Void Deck, Function Hall, Community Centres, Auditoriums, open field events and Movie Screening.
This product is no longer in stock
Availability date:
More info
A. The package comes with the following: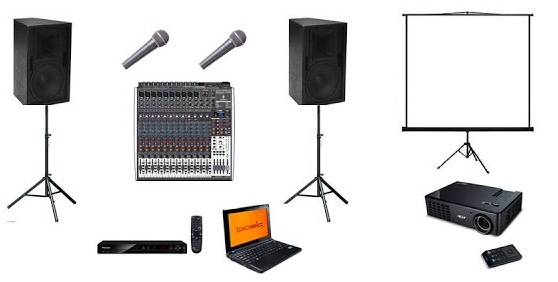 2 x PA speakers with Amplifier.
2 x Speaker Stand.
1 x Audio Mixer.
2 x Wireless Mics.
1 x Wireless Mic receiver.
1 x 3600 Ansi Lumens Bright Projector.
1 x Projector Stand.
1 x Tripod 70" Projector Screen.
1 x Lenovo ThinkPad Notebook.
2 x 3.5mm cables to connect your tablet, PC or other sound device.
1x Table for Audio Mixer and Notebook.
Other necessary cables and adapters.
B. Loan duration is for Four (4) hours only. For extra hours please indicate in your selection.
C. There will be a Sound technician throughout the event. The sound technician will operate the audio mixer and projector.
You can request the Sound technician to :
1. Play audio music (music has to be provided in a flash drive)
2. Play video. (Video has to be provided in a flash drive).
D. You are also welcomed to use the Notebook provided and use your own audio or video files.
E. FREE Delivery, Setup and Removal.
The Sound technician will setup the Video and Sound system.
We require 2 hours setup time before event start time.
To remove we require between 30 to 45 minutes.
F. Payment: Customers required to pay 50% deposit. Balance to be paid on the end of Event day.
G. Booking has to be done at least 2 weeks in advance. Kindly inform us of the following:

1. Type of Event : Ex. Birthday party, Wedding, Baby shower, Company Event.
2. Venue.
3. Start Time of Event. Ending time of Event.
H. Kindly contact us for any further details.


Tel : +65 6100-0221
Ask a question
NO registration required!
If the question you have has not yet been answered here, use the form below to ask something about this addon.
Reviews
Rated
5.00
on the scale
1
-
5
based on
3
customer reviews
Wedding
We used D-NEXUS service for a small wedding reception. The setup was smooth and the sound quality was wonderfully. The guest were impressed.
Thank You !
We booked d-nexus services for my 21st birthday. The video projector together with the Loudspeakers was more than enough for my event. The sound was loud for the Open Function Hall. We were able to showcase all the photos via the video. The guest truly enjoyed it. Thank you !
Great Service !
We used D-NEXUS sound Rental service for my Daughters 1st birthday. The Sound Tech person was very friendly. Using their Projector, we were able to show photo montage. Also we were able to play videos. These kept the audience interested. Overall it was a BIG Success!